Walking Trails
We currently have five trails for your walking enjoyment. These trails range from short and level to longer with steeper inclines. The trails are laid out to allow you access to many scenic spots on the Ranch. All our trails start and end at the Farm Hall, and are marked by small metal triangular signs.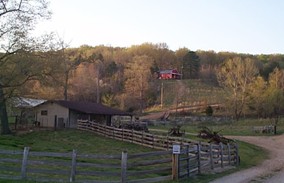 Each triangle is color coded so that you know which journey you are on. Any or all of the trails may be closed at different times of the year depending upon location of our livestock. Please obey all signs that temporarily close an area. They are for your protection!
Please pick a trail based on your physical condition. We want your walk to be a treat, not a task.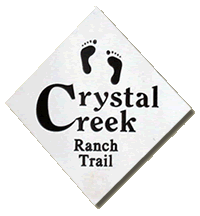 Yellow Trail – steep to Overlook Ranch House at top of hill Distance one way is .6 mile
Blue Trail – Goes thru the barnyard area and is level to the end of the lake.  An additional loop then meanders along the creek and then the mature Ozark forest.  Distance is 1.5 miles to the end of the lake.  The additional loop is a half mile.
Red Trail – Mostly level with mild incline – goes past the campground and Labyrinth. If you take the shortcut total distance is 1.25 miles. Distance is 2.0 miles for the complete trail.
Green Trail- *Presently, the last 2/3 of the trail is NOT maintained* Two thirds is level and one third third is strenuously steep to Road Runner Ridge. To make a complete loop the Green Trail uses part of the Red Trail for half mile. The distance is 1.6 miles
Purple trail- The purple trail crosses the creek by the campground area and continues to the tree retreat loop and back.  Distance is 2.2 miles.  You will need to wade the creek.
For your safety
Stay on designated trails
Avoid contact with all animals
If a gate is closed open to walk through and then latch shut
Honor all signs
Take water if it's hot
Wear comfortable shoes
Things to look for on trail
Animal tracks
Fossils
Arrowheads
Springs bubbling
Birds / eagles soaring
Forest/prairie wildlife
Wildflowers
Click on the image below or HERE to view an enlarged, printable version of this map.