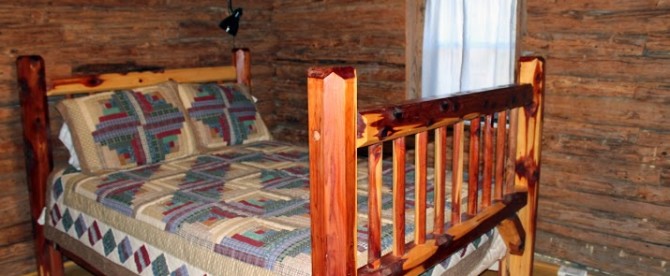 Russ Noah Log Cabin
Log cabins have a tradition at Crystal Creek Ranch that goes back to the formation of Shannon County in the early 1800's. While the Delaware Indians lived on the ranch in earlier years, Billie Mahan built the first log cabin on the property in 1833. This log cabin served as the first courthouse in Shannon County, prior to the construction of a permanent one located on the Current River below Round Springs. The log cabin again served as a temporary county courthouse after the Civil War, in which the Round Spring Courthouse was destroyed. At this time a new courthouse was constructed in Eminence, where it still is today. Our Russ Noah Log Cabin is located not far from the original 1833 cabin location, and was built in the 1950's by Russ Noah, who patterned it after the log cabin he had lived in during his earlier years. Russ donated the cabin to Crystal Creek Ranch, and we moved it to its present location, adding a floor, foundation, and new roof as well as finishing the chinking of the outside walls and installing inside furnishings. The furniture is native red cedar hand made by local craftsmen.
12' x 12' log cabin
Full size cedar log bed
Sleeps 2
Microwave & small refrigerator
Kids may set up tent outside
Linens provided
Restrooms & showers in Farm Hall
Outside fire pit, hotdog sticks, picnic table, benches
Listen to the windmill as it slowly turns in the breeze while relaxing on the front porch in the evening as the sun sets on a peaceful day.
6 miles of walking trails
Outdoor recreation area horseshoe pit, volleyball area, tetherball, badminton
Rec area in Farm Hall – ping pong table, tailgate beanbag toss, foosball, washers
Free use of paddleboats, canoes, Roadster pedal cars,  tractor tire fun & hay mountain
Inside family board games and puzzles
Free fishing in our lake and ponds (catch & release only)
Experience small animal interaction
2 miles of creeks to explore
Crystal Creek Labyrinth
Russ Noah Log Cabin - Rates
Rates are per night with a two-night minimum.  All prices and policies are subject to change without notice.
ALL PRICES ARE PER NIGHT WITH A TWO-NIGHT MINIMUM.
Russ Noah Log Cabin Rates

- 2 persons per night - Includes Adventure Pass
Weekdays. Weekends, and Holidays
$65.00
For camping next to the Cabin
Each extra person over age 4
$12.00