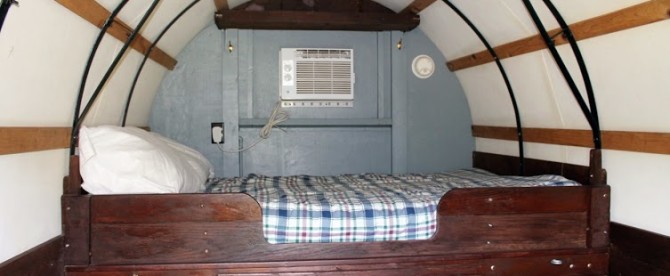 Sheepherders Wagon
Our Sheepherder's Wagon is original and was built by a retired shepherd who spent many years in Colorado, tending his flocks in similar wagons. We purchased the wagon newly handmade with many individual touches, such as all hand-forged iron work and original canvas covered wagon bows. Measuring 7' x 14', it is designed to be a self-contained unit, complete with a double bed, eating area, and storage areas for supplies that were used when the shepherd was spending weeks at a time out on the range with his flocks.
Sleeps 2 / bedding provided
Pitch a tent for others as needed
Air conditioning
Small refrigerator / coffee maker
Outside fire ring / hotdog sticks/ benches/ picnic table
Restrooms & showers at Farm Hall
Experience what it was like to be a shepherd tending your flock (with a modern twist). You can even feed the sheep at out small animal areas. We guarantee you an experience you will always remember!
6 miles of walking trails
Outdoor recreation area horseshoe pit, volleyball area, tetherball, badminton
Rec area in Farm Hall – ping pong table, tailgate beanbag toss, foosball, washers
Free use of paddleboats, canoes, Roadster pedal cars,  tractor tire fun & hay mountain
Inside family board games and puzzles
Free fishing in our lake and ponds (catch & release only)
Experience small animal interaction
2 miles of creeks to explore
Crystal Creek Labyrinth
Sheepherders Wagon - Rates
Rates are per night with a two-night minimum.  All prices and policies are subject to change without notice.
ALL PRICES ARE PER NIGHT WITH A TWO-NIGHT MINIMUM.
Sheepherders Wagon Rates

- 2 persons per night - Includes Adventure Pass
Weekdays, Weekends, and Holidays
$55.00
For camping next to the wagon
Each extra person over age 4
$12.00