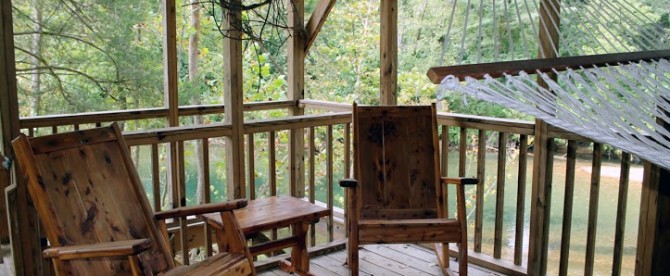 Tree Retreat
Relax on the deck and watch the creek as it cascades down a small rock ledge and forms a pool of constantly changing sights and sounds. The interplay of the rocks, ledges, and white swirls of water all accompanied by the sound of running water…a God given music that strikes a chord in all of us. Our tree platform rises up above the creek, and offers you a unique outdoor lodging experience. When you stay in our 12' by 20' tree retreat, you experience the best of both worlds, of the harmony of nature and the man-made comfort of protection from the elements while you sleep, eat, and enjoy the beauty of your surroundings. PLEASE NOTE: All wheel drive vehicle required. A large part of the beauty and serenity of our Tree Retreat is its remoteness from all other areas. To get there you must cross thru a creek, and across gravel/sand areas, as well as traveling thru our fields. Since the Tree Retreat is quite secluded and about a mile away from our main facilities, you must do your initial arrival during daylight hours. Restrooms and showers are available at the Farm Hall when and if you want to venture out. Refresh… renew… and leave your cares behind.
Sleeps 2-8
Add a tent as needed
Hanging rope hammocks provided
Cedar rockers and benches
Outside fire pit / charcoal grill
Picnic table
Outhouse
Restrooms & showers at Farm Hall
6 miles of walking trails
Outdoor recreation area horseshoe pit, volleyball area, tetherball, badminton
Rec area in Farm Hall – ping pong table, tailgate beanbag toss, foosball, washers
Free use of paddleboats, canoes, Roadster pedal cars, tractor tire fun & hay mountain
Inside family board games and puzzles
Free fishing in our lake and ponds (catch & release only)
Experience feeding of our small animals
2 miles of creeks to explore
Crystal Creek Labyrinth
Tree Retreat - Rates
Rates are per night with a two-night minimum.  All prices and policies are subject to change without notice.
ALL PRICES ARE PER NIGHT WITH A TWO-NIGHT MINIMUM.
Tree Retreat Rates

- 2 persons per night - Includes Adventure Pass
Weekdays,Weekends, and Holidays
$50.00
Each extra person over age 4
$12.00