Crystal Creek Ranch is located 4 miles from Eminence, Missouri, 2 miles from the Alley Spring Mill, and 1 mile from the Jacks Fork River, part of the Ozark National Scenic Riverways.  We are a part of Shannon County, of which over 65% of the county land is in state or national forests or the Federal Park System.  The area is known for its numerous springs, rivers, wildlife and natural beauty.  Crystal Creek Ranch lies off of E Highway, which runs north and south between 106 Highway on the north, and U.S. Highway 60 on the south.  If traveling on 106 Highway, go south on E Highway approx. 1 mile to our Ranch sign.  If coming in from 60 Highway go north approx. 9 miles on E Highway to our sign.  The sign is about 4 x 6 feet, so you shouldn't miss it.  At the sign turn east on County Road 414, a well maintained gravel road.    Go 1 mile to the Ranch (stay to the left when the road forks).  The County Road ends at the Ranch.  
Program GPS units for Street Name Address of:  CR-E-414, Eminence MO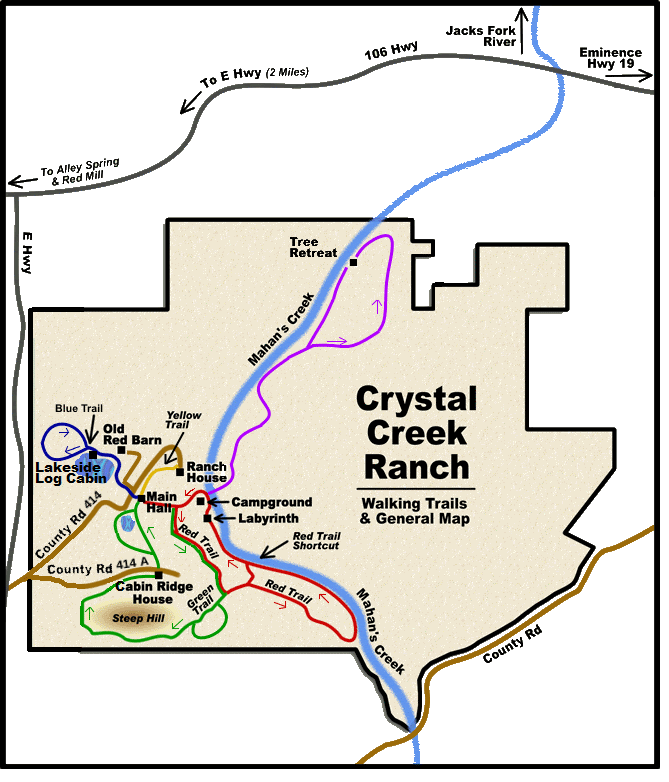 Welcome! Other than our lodging facilities, the days and times below are when we are open throughout the year. These may be subject to change, and if so will be posted on our activities board at the Farm Hall and in our News & Promos section.
Overlook Deck / Self-Guided Ranch Tours / Walking Trails / Outside Primitives & Horse Drawn Equipment
Open daily till dusk. (Closed Nov. 1st – March 31)
Farm Hall / Inside Museum / Small Animal Area
Open in April, May, September, October 
Memorial Day – Labor Day: Open Daily.
Farm Hall/Reunions/Groups
April 1 – Oct.31
Old Red Barn
April 1 – Oct.31
Russ Noah Log Cabin
April 1 – Oct. 31
Sheepherders Wagon
 April 1 – Oct. 31
Ranch House Lodging
April 1 – Oct.31
Cabin Ridge House Lodging
April 1 – Oct.31
Livery Stable Cabin 
April 1-Oct. 31
Lakeside Log Cabin
April 1-Oct. 31
Contact us anytime